Sport tournament template
I created Excel templates for saving sports results. There are many variants of tournament: 3 – 16 teams in each group. The number of groups is not limited.
Each group is on a separate sheet. It contains a list of teams, the schedule and it automatically generates the table.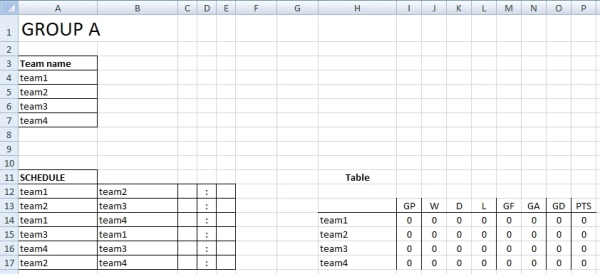 Settings – team names
For changing the team names just edit the table "Team name". The changes will be reflected in the Schedule and in the Table.
Settings – points for a win, a loss and a draw
File contains sheet named Options. There you can set the points. The changes will apply to the entire file.
Settings – how to add more groups
In each file are 4 groups. If you want to add another group, copy one of the sheets and rename it (For example copy sheet named GroupD and rename it to GroupE). If you want to remove some of the group, just delete the group sheet.
Automatically generated table
You have to fill the score of each match and the table will be automatically sorted by number of points. There are no Excel macros, just an array formula and lookup function. The table calculates:
GP – Games Played
W – wins
D – draws
L – loss
GF – Goals For
GA – Goals Against
GD – Goal Difference
PTS – points
Bonus/penalty points
You can give a bonus or penalty points to the each team. For example: team2 has 9 bonus points and team4 has 10 penalty points. This will be automatically calculated to the final table.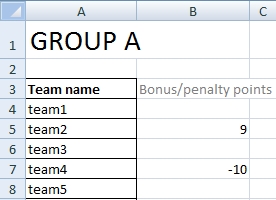 League schedule template
Template for 9 – 16 teams can be used as the league schedule. Rounds are separated in different color.
How to update and create more teams template
Do you need some modifications? Try it yourself 🙂 There is the video guide how to update 3 teams template to 4 teams template.
Free download MS Excel files
3 teams in each group: sport_tournament_3_teams.xlsx
4 teams in each group: sport_tournament_4_teams.xlsx
5 teams in each group: sport_tournament_5_teams.xlsx
6 teams in each group: sport_tournament_6_teams.xlsx
7 teams in each group: sport_tournament_7_teams.xlsx

8 teams in each group: sport_tournament_8_teams.xlsx

9 teams in each group: sport_tournament_9_teams.xlsx
10 teams in each group: sport_tournament_10_teams.xlsx
11 teams in each group: sport_tournament_11_teams.xlsx
12 teams in each group: sport_tournament_12_teams.xlsx

13 teams in each group: sport_tournament_13_teams.xlsx
14 teams in each group: sport_tournament_14_teams.xlsx
15 teams in each group: sport_tournament_15_teams.xlsx
16 teams in each group: sport_tournament_16_teams.xlsx
Edit. 04/20/2014
I improved the formula so that it took into account the goal difference. Thanks Bert for inspiration. In the next few days, I will add other versions with a different number of teams.
Edit. 06/11/2014
The schedule has now 4 rounds. Each team can play with others twice as home and twice as visitor. So you can use this template for some kind of sport league (basketball, football, ice hockey, volleyball, …)
Edit. 08/28/2014
– 14 teams template added
– bonus/penalty points feature
– ranking improved –  if points and goal difference are equal, then ranking is based on goals scored
– schedule in 10, 12 and 14 teams template is now prepared to be a league – each round is separated by a color
Edit. 10/14/2014
– 9 teams template added
Edit. 11/13/2014
– 3 teams template added
– 11 teams template added
Edit. 12/05/2014
– 13 teams template added
– 15 teams template added
Edit. 01/23/2015
– 16 teams template added
Edit. 03/29/2015
– video help "How to update this template"